Portfolio overview
The Ziccum pipeline of external projects is depicted in a portfolio overview. This gives a general representation of the key steps towards the desired commercialization by entering into license agreements, licensing the LaminarPace technology for specific applications, and the current status of each project. The actual progress in a specific project may proceed via alternative or additional steps, and the timeline varies greatly depending on the resulting read-outs and the counterpart preferences.
Pharmaceutical development in general is subject to very strict confidentiality, and certain collaborations are given without partner name publication, until name disclosure is possible.
The company also pursues earlier dialogues with other counterparts in on-going business development efforts.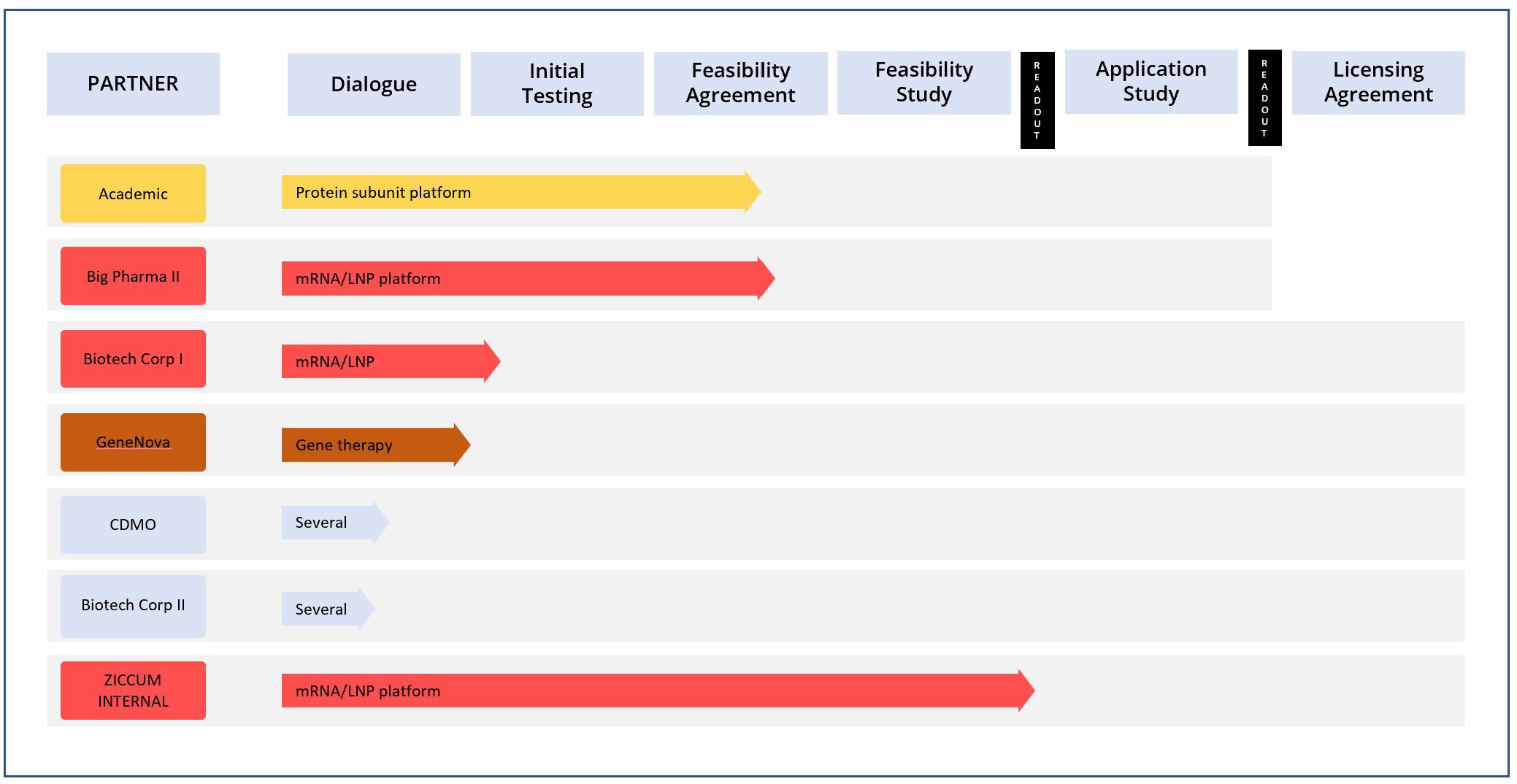 Project portfolio overview as of 30 Sep, 2022
*The text in the arrow represents the technology platform
Ziccum in brief
Ziccum's patented technology LaminarPace gently dries liquid biopharmaceuticals such as vaccines or protein therapeutics into a particle engineered powder product.
For patient administration, the drug powder may be reconstituted, which means mixed with liquid and injected just like a liquid solution vaccine, or directly administered in powder form by inhalation or other novel administration routes.
The gentle processing in ambient temperature enables thermostable powder biopharmaceuticals. This means that the biological drug or vaccine can be transported and stored at room temperature, unlike today's liquid biologics that require costly, complex logistics with an unbroken cold chain, or even freeze chain.
September
Ziccum at Nordic Life Science Days in Malmö
October
Ziccum at World Vaccine Congress in Barcelona
October
Ziccum at Bio-Europe in Leipzig